By: Elizabeth Xu
On Sunday July 9th, Eddie Li and his family, 世伟 and his dad, and my family all went to the Pope John Paul II Park in Boston MA. The park was a very sunny, isolated area, a wide, and open space great for flying kites and playing around. That day we packed all our kites and drove to the park, eager to have fun and run around in the sun. 世伟 is a burnt patient from the Shriners' hospital who came to Massachusetts from China for medical treatment, and we decided to take him out to have fun while he was here in the US.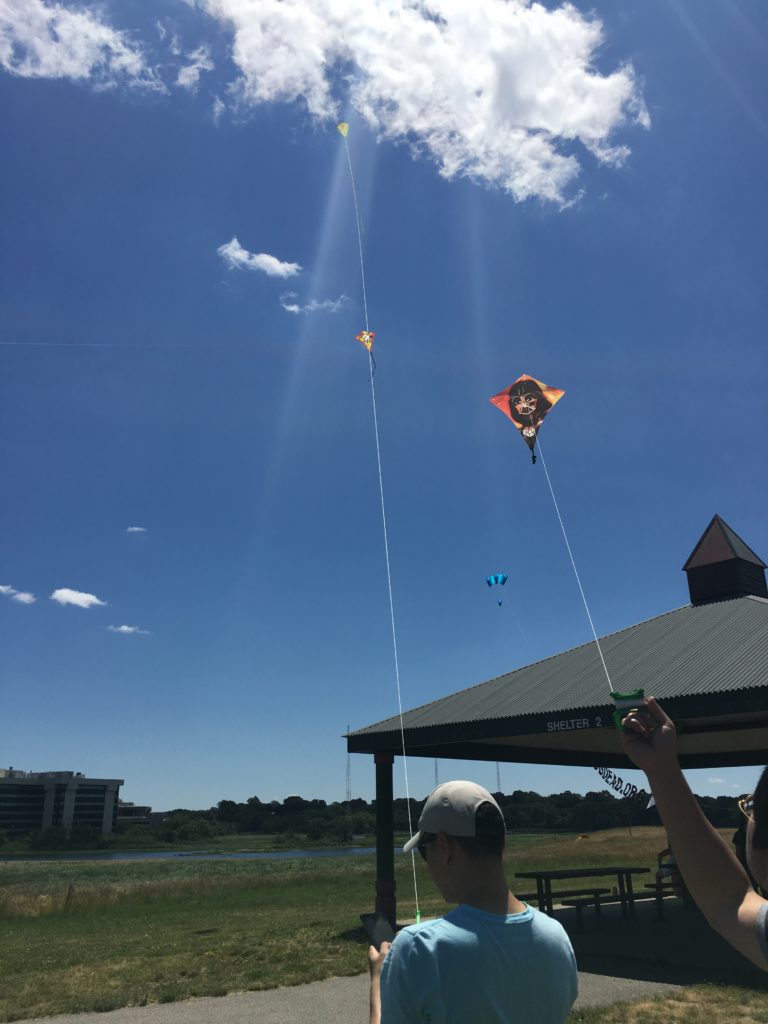 Eric's and Eddies kite (highest; top left), 世伟 and my Darth Vader kite (middle; right)
After we'd scheduled where to go and had all arrived, 世伟, Eddie, Katie, and I got to work setting up our kites. It was the perfect sunny and windy day for flying, and our kites rose easily up to the sky as we laughed and ran with each other. 世伟 loved building and flying the kites, and we all rushed to see how high our kites could get. Eddie's and his little brother Eric's were by far the highest, then came 世伟 and my kite, and lastly all the others. I noticed that 世伟 was a SUPER easy going and hilarious child, who loved to talk and make us laugh and smile, which he certainly did. He was open hearted the whole time and we all got super close as the day went on. Once our kite dropped 世伟 would rush to get back up in the air again, and we went back and forth controlling our kite, 世伟 easily getting it to stay up and flying, while I had some trouble maneuvering the kite string. After flying the kites got tiring and we needed a rest, we all sat panting on the benches of the park in the shade of a large, green roof, chomping on the 粽子 that my mom made the day before.
After our break, we all went back to fooling around, Eddie, Eric, 世伟, and I participating in a series of hysterical games that made us drop dead on the ground laughing and sweating. The first game we played was what we called cap stealing. Eddie, Eric, and I were all wearing hats and the objective was to steal the hats from your opponent's. Me and 世伟 faced off against Eddie and Eric as we chased each other for our hats back and stole them off their heads at random moments. 世伟 was very good at this game, as he constantly helped me get my hat back, while laughing when we he stole Eddie and Eric's hat. The second game we played was using Eddie's golf ball, the objective was to steal the ball from each other, keeping it for as long as possible. 世伟 was the leader, and decided who he would give it to, sometimes dropping it and seeing who got it first, or just throwing it and seeing who got there first. 世伟 giggled non-stop as he, Eddie, Eric and I chased after the ball.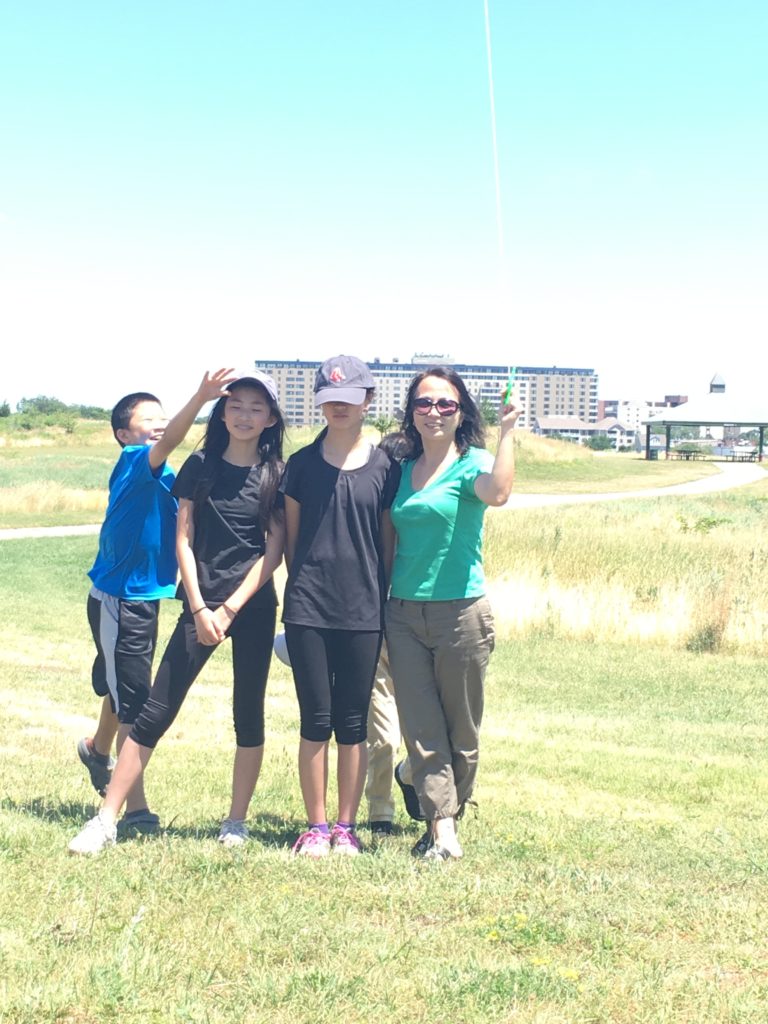 Eric, in the midst of stealing my hat; photo bombing our picture
Finally, when we were all too tired to move and sat exhausted in the shade again, we chatted around and ate watermelon. Just then Eddie's parents gave us a 3D airplane kite, which we all gladly assemble and attempt to fly. 世伟 ran all around the park as the airplane soared into the sky.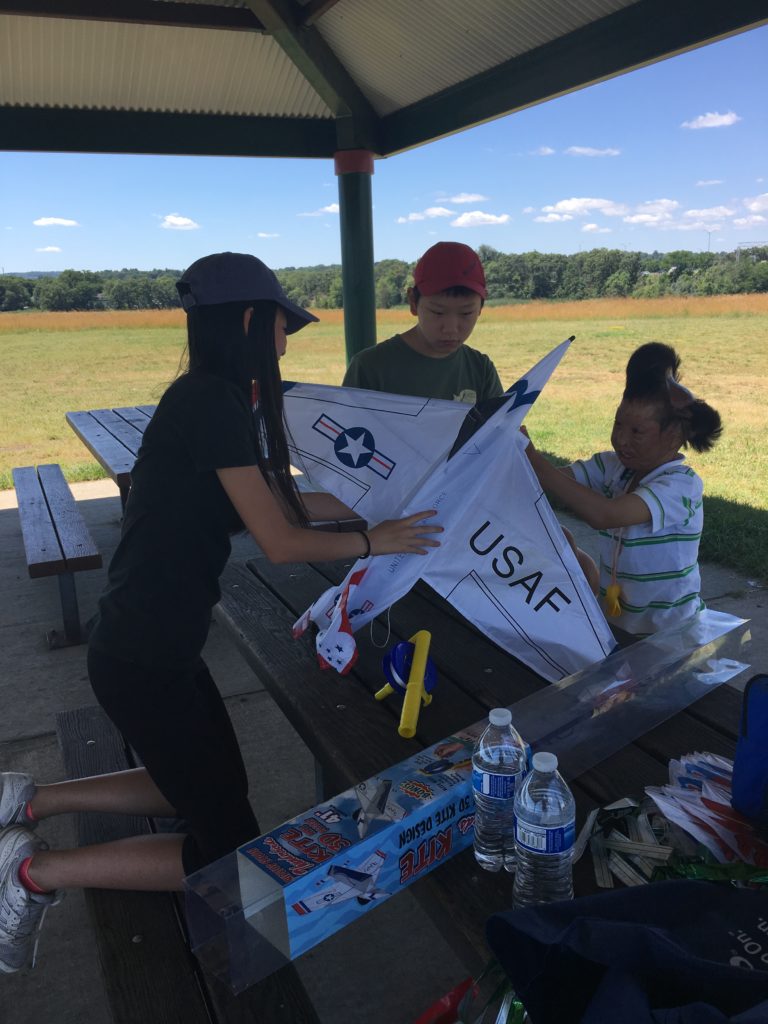 Setting up our 3D airplane kite
A while later, we left the park, hungry and exhausted, so we decided to find a nearby place to eat. We ended up going to a local Wendy's, where we found a seat and waited for our food to arrive. 世伟 was delighted in having american food, which consisted of a fruity flavored drink, tons of fries, a hot cup of chili, and a cheeseburger. We all laughed when 世伟 tried mustard for the first time, his immediate scrunched up expression proving his dislike as he hurried to gulp some of his juice while wiping his tongue on a tissue.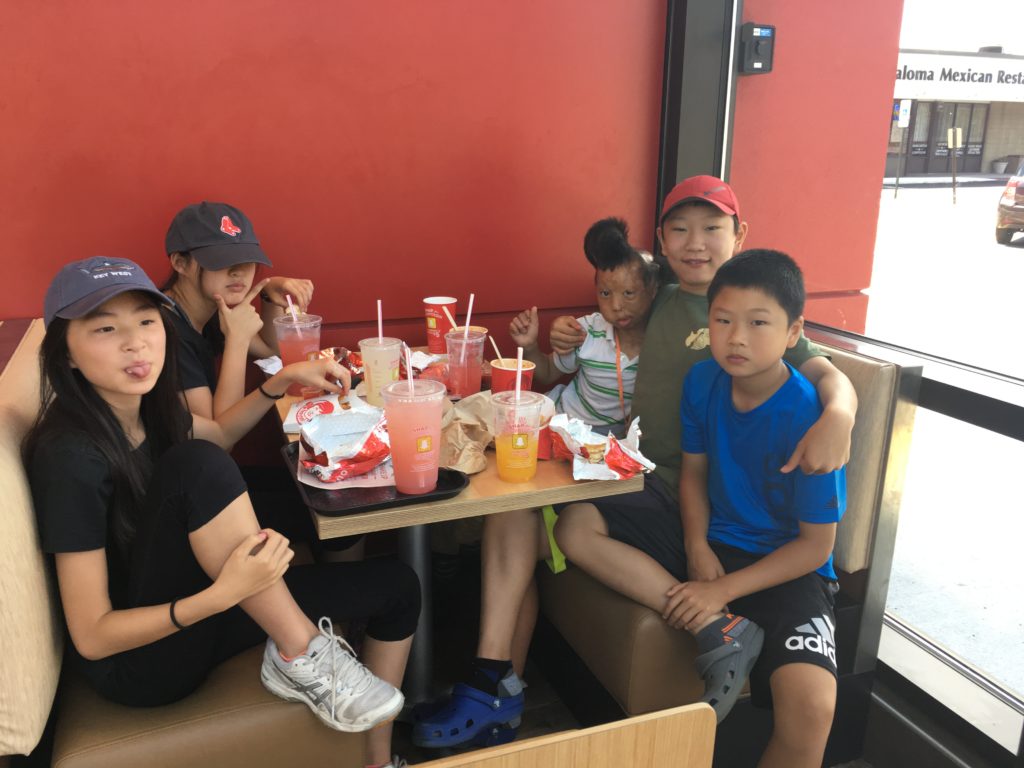 Us eating at Wendy's
A while later after we had all finished our burgers, fries, and drinks, we drove to Castle Island, where we sat in the sun, ran around, and relaxed in the fresh air. After cooling off, we went to play at the huge nearby playground, where we hopped onto the swings. When teaching Eddie how to swing proved hopeless, I got on my own swing where 世伟 offered to push me and I pushed him too.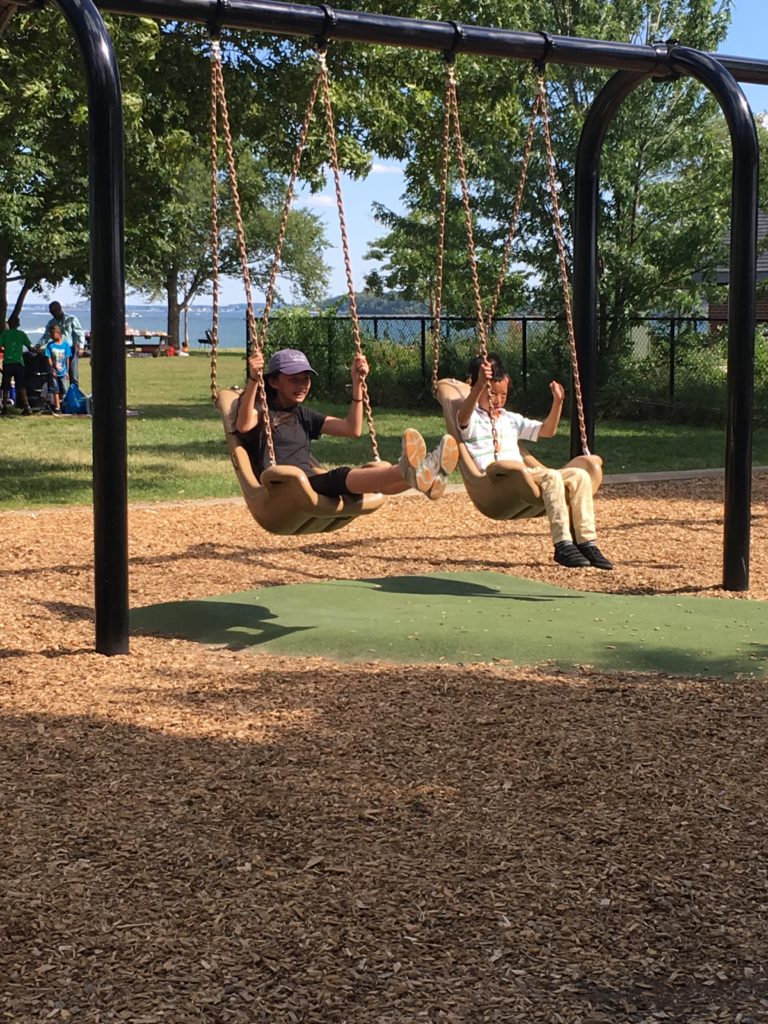 世伟 and I swinging
Finally we decided to end the day off by going down to the shore, where we practiced skipping stones and digging for seashells. 世伟 and I searched busily for the flattest stones to skip, sharing our pile and finding more when we ran out. The most skips I got was three, while Eric claimed to have done four.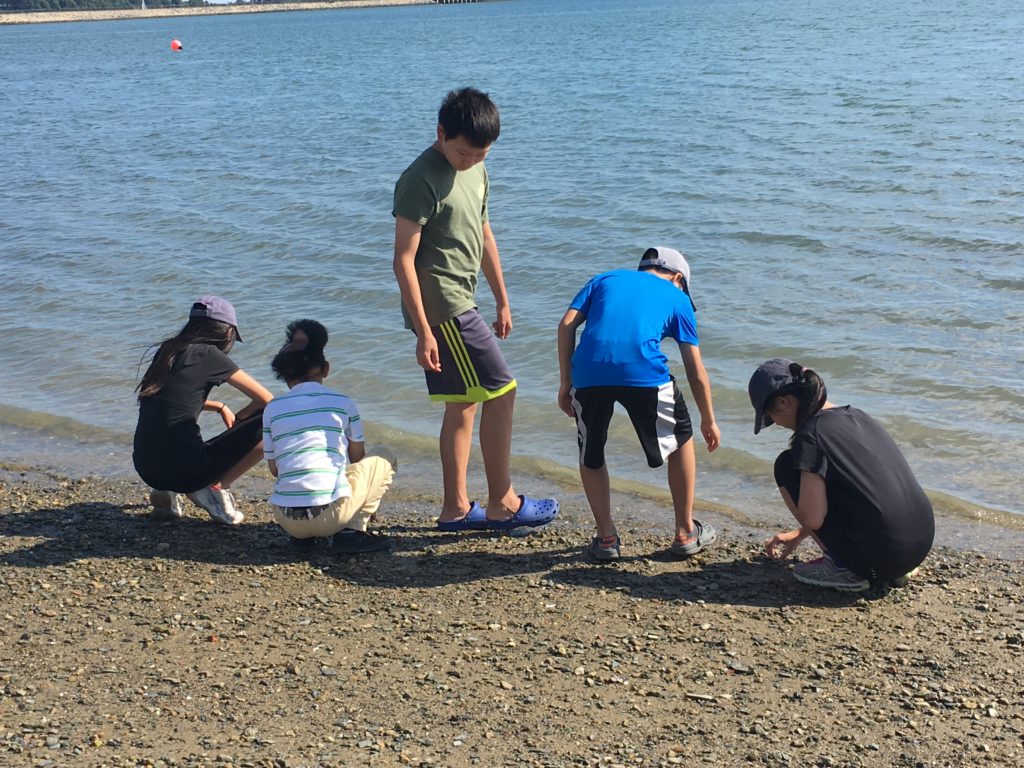 Skipping stones at the Castle Island Beach
At the end of the day, we reluctantly left the beach, trudging under the sun back to our cars. Eddie and Eric's family when in their car, while my family, 世伟 and his dad when in our car. After driving for a few minutes, we arrived at their apartment, where we dropped him off, waved, and said our goodbye's. I had an awesome time with 世伟 and his dad, and he was so much more different than I would have imagined his to be. He had the most positive and funny personality, even after all that he had been through. It proves that even if you have harder route in life, it's your choice whether to persevere through it or not, and as long as you try hard and live your life, nothing can drag you down.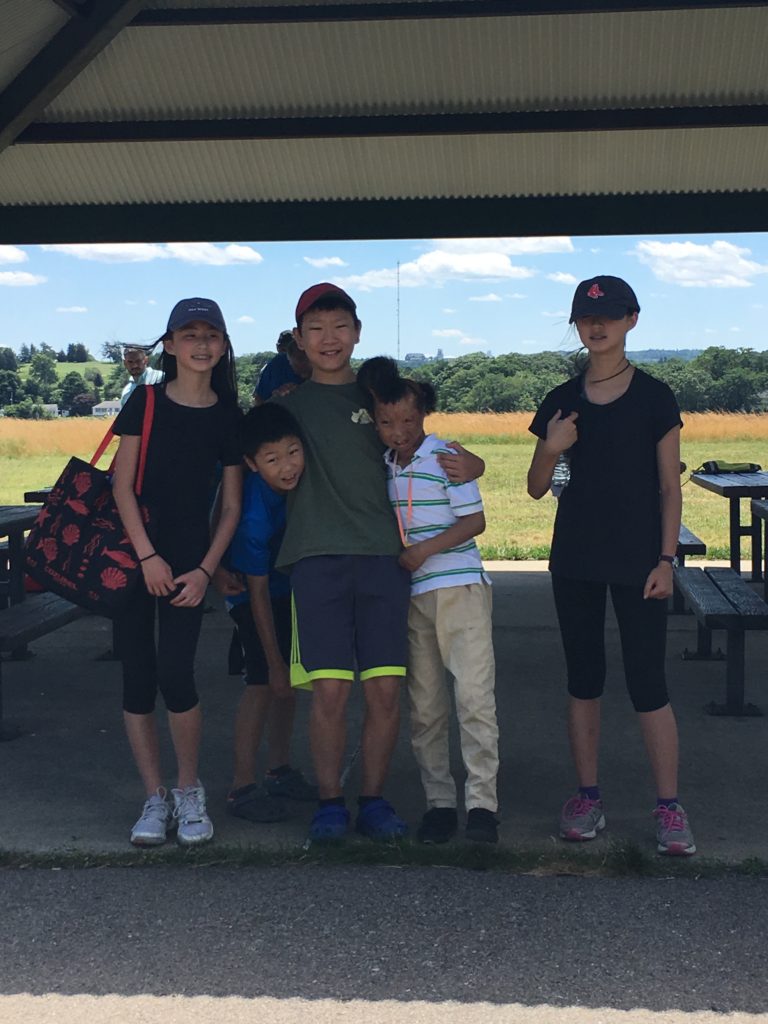 Us having an awesome day at the Pope John Paul II Park!