by Margaret Li
On July 1st, I went with my family, Nancy and her family, and 世伟 and his dad to Blue Hills. Blue Hills is a small mountain located in Milton, MA, where families can hike, play in the pond, bike, and look at wild animals. It was the perfect place to enjoy a summer day. 世伟 seemed to like it a lot. We went to the wild animal zoo/observatory where we viewed snowy owls, red-tailed hawks, bald eagles, and white-tailed deer. My favorite animal was still the otter. It was still the same otter from years ago, but it was still as graceful as ever in the water. 世伟 knew a lot about animals, and he told us many interesting facts about animals. He was very open to everything, and curious about all the animals. He told me that he really liked to read, and that he constantly watched 动物世界. After we took a tour of the outside zoo, we went inside to a small wilderness exhibit. It featured a great horned owl, a beehive, different types of snakes, and a rabbit. I thought the beehive was really cool, because there was a tube that connected outside, but the hive was indoors and inside a glass wall.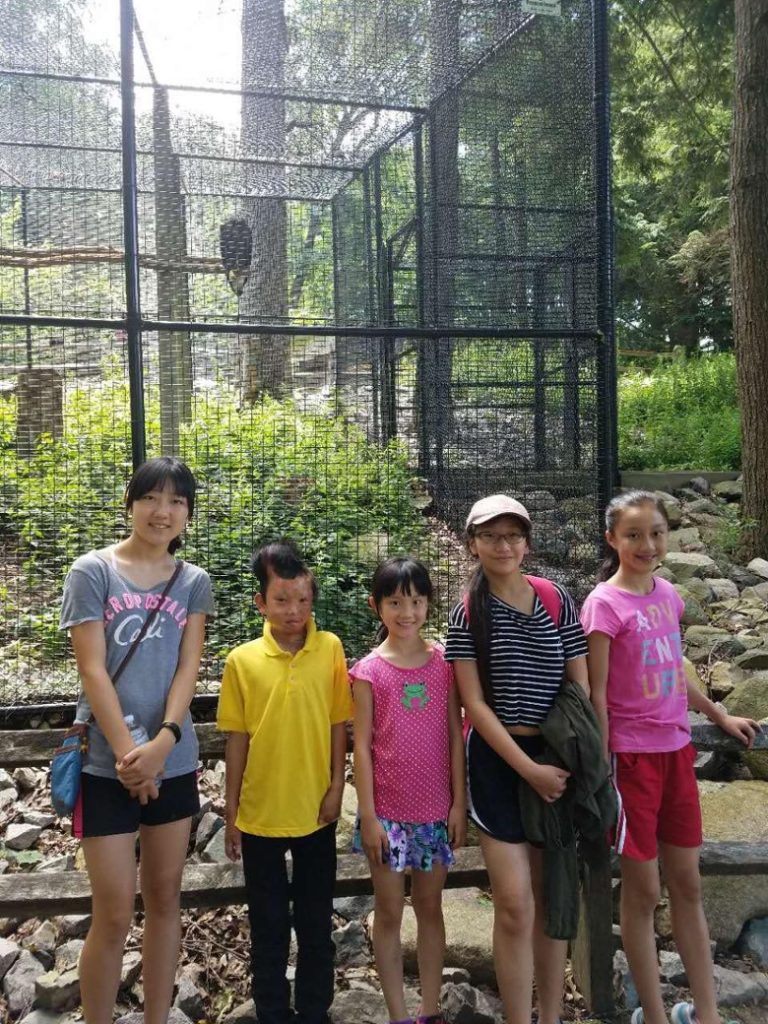 Posing with the Bald Eagle
Next, we went mountain climbing. 世伟 was very agile, and he leaped from rock to rock nimbly. I also noticed that 世伟 was very observant and eager to learn. I taught him that 石头 was rock in English, and he remembered that tree meant 树. 世伟 also noticed that there was a huge mushroom growing on the underside of the rock. It was very obscure and not something most people would notice, but he did. After we climbed a bit, we came back down and went to the pond and playground. We spread out picnic blankets and had a feast. There were tea eggs, egg fried rice, bread, ham, pastries, sandwiches, and chocolate. We were sitting under a tree, and there was a light breeze stirring. The sun lit up the waters in a brilliant array of colors. It was a beautiful site to picnic at.
After eating, we spent a little time on the playground. 世伟 learned how to say monkey bars. However, the majority of our time on the playground was not spent on the monkey bars, but rather on a pole where you slid down on from the top of the slide. Sliding down on the pole was easy, so each of us attempted to climb up the pole for a challenge. The funny thing was that nearly everyone climbed up using a different way. I hooked my arms on the top and swung my body up, Hannah and Jessica climbed up the pole, and 世伟 climbed up the supporting beams and pulled himself up.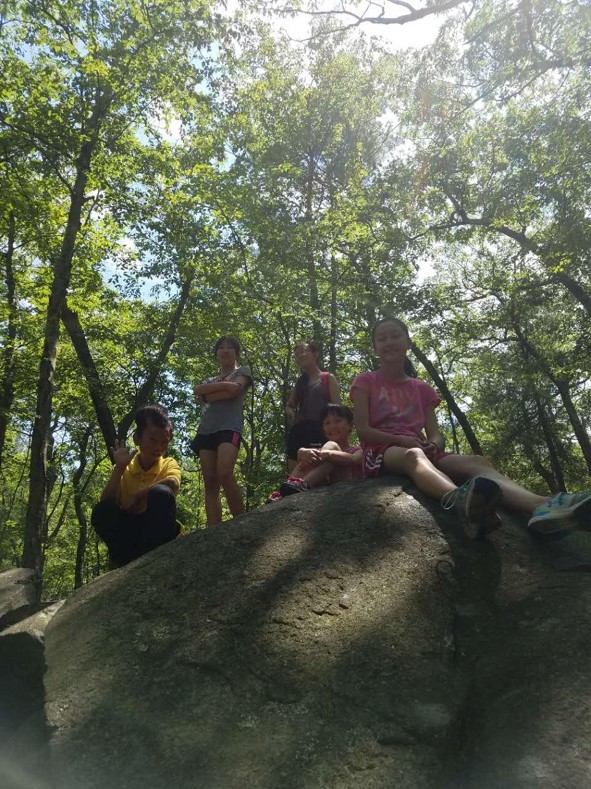 Rock Climbing on Blue Hills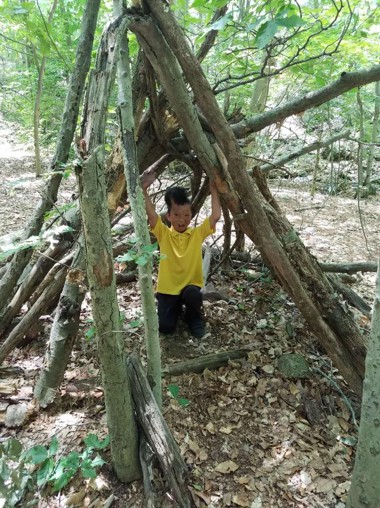 Natural Habitat!
Lastly, we played at the beach. The water was very warm, and we built sandcastles on the shore. Everyone grabbed a bucket and started filling it up with sand. 世伟 was very good at this and made a perfect smooth castle. We built many castles, and played in the water. After a while, Hannah, Jessica and Nancy got bored and went back to our picnic area. 世伟, my dad, and I decided to dig a moat around the castle. We used seaweed, sticks, shovels, and a silver coin to build our masterpiece. It took a long time, but it was very fun, and our work was rewarded when the water from the pond gushed in and filled the moat. After it was done, we took pictures and left.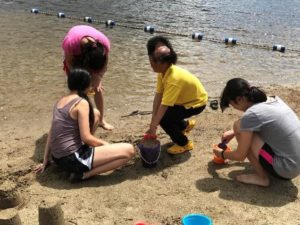 Building sandcastles at Houghton's Pond

The finished product!
I had so much fun with 世伟. He is such a smart, open-hearted, curious, and cute child. 世伟 loves to learn English and has a positive attitude in life. He has walked a very hard road, yet he is still a ray of sunshine in this world. I wish the best of luck for him and I am so glad that I got to spend time with him, if only for a day.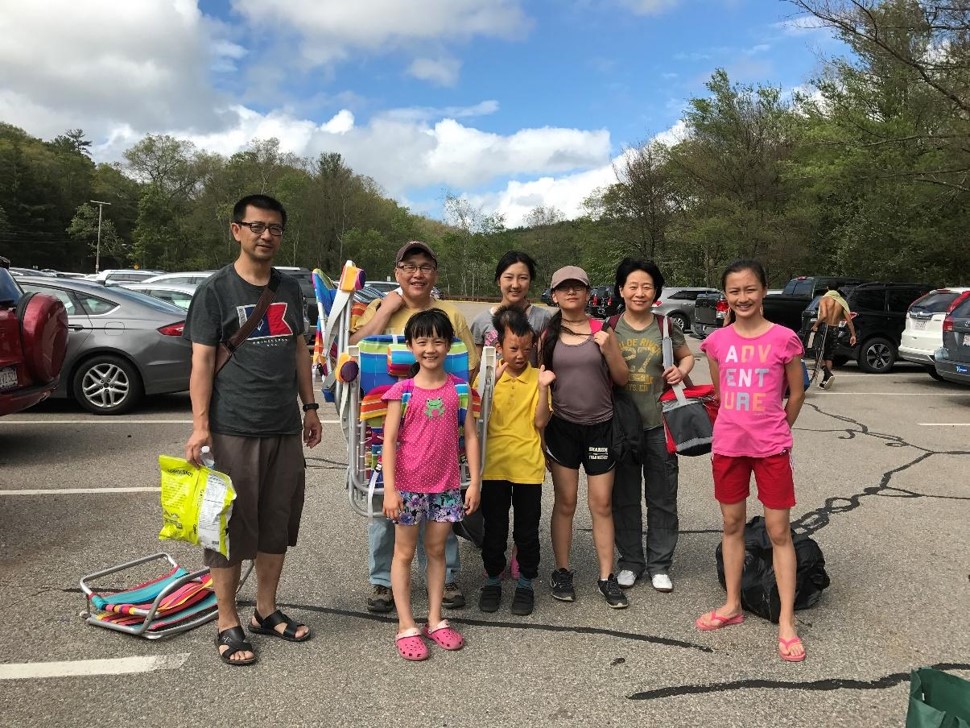 A wonderful and satisfying day at Blue Hills!