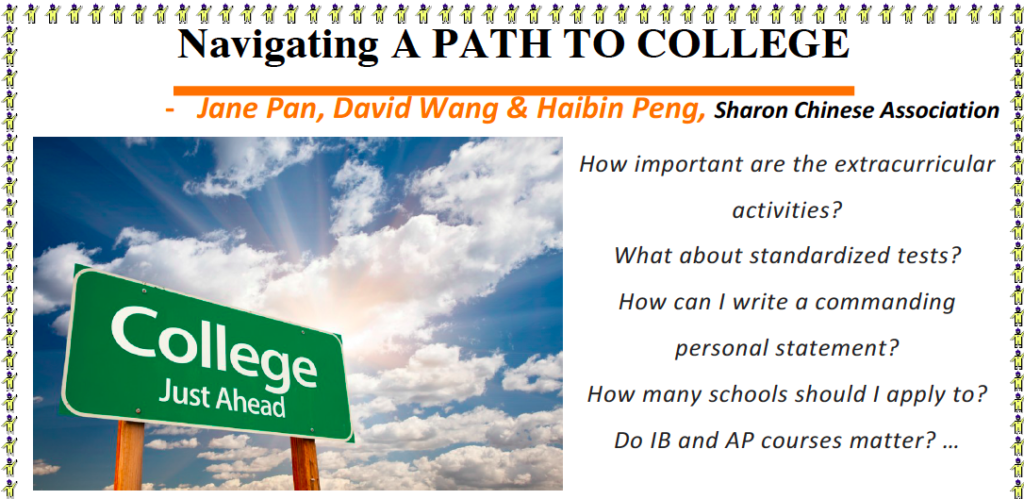 The Sharon Chinese Association (https://sharonchinese.org/) proudly presents "Navigating A Path to College", the first forum of a series aimed at helping future college students navigate the college admission process and land admission from their dream colleges.
Time: 07/26/2017   7:30 pm – 9:30 pm
Place: Unitarian Church of Sharon, 4 N Main St, Sharon, MA 02067
Admission: free, open to public including church members, with a suggested donation of $5 per family.
Special Thanks: Unitarian Church of Sharon
Speakers:
Jane Pan: A recent graduate of Medfield High School. She scored a perfect score on her SAT, was named a National AP Scholar and Siemens Competition National Semifinalist, and was awarded a National Merit Scholarship. She was named a Davis Scholar at Columbia University, and was also accepted to MIT, UC Berkeley, and Vanderbilt University, amongst others. This fall, she will be studying mechanical engineering at Columbia University's Fu Foundation School of Engineering.
In this talk, Jane will discuss preparing for the college admissions process throughout high school, choosing colleges, and how admissions and applications work. She will walk through each part of the Common App and discuss how to tackle supplemental essays. She will also address common misconceptions about college applications and how parents can support their children through this confusing and tumultuous process. The session will end with a question-and-answer session, so feel free to ask Jane anything about her opinions, experiences, and understanding of college admissions!
David Wang and his mother Haibin Peng: David Wang at Cornell majoring in economics and double minoring in computer science and international relations. David is a national merit finalist, AP scholar with distinction, former model UN president and champion, and an avid classically trained clarinetists. At Cornell, David is a foreign policy analyst for a think tank and a member of the pi kappa alpha social fraternity.