Sharon, MA – Thirty Chinese Americans in town woke up on Tuesday 1/30/2018 to a tranquil blanket of 4-inch of snow. With it still pouncing and wind soaring, roads unplowed, area highway in a standstill, they hastily ushered kids to school buses and trash bins to curbsides before gravitating toward a single destination, the Massachusetts state house. Their mission of the day was to testify in front of the Joint Committee on State Administration and Regulatory Oversight. With many participating the democratic legislative process for the first time ever, their territory of the day was as unchartered as the early morning snow on the ground. However, it is a process they treasure and deemed as trustworthy as earth orbiting around the sun.
They arrived together with well over 600 Asian Americans from all around the commonwealth, well ahead of the 12:30pm start time of the hearing of an Asian-registering (or in the case of Pakistanis, a de factor Asian Muslim-registering) Bill H.3361. From the signs they held and stickers they wore, they were overwhelmingly opposing this bill. The unprecedented turnout on a cold and snowy work-day was impressive even to the sponsor of the bill, house representative Tackey Chan, who was quoted as saying "you have never seen this many people from Asian ethnicities at the Statehouse ever". Surprisingly though, disdaining the historical level of controversy, he seemed as determined as ever to advocate for his bill.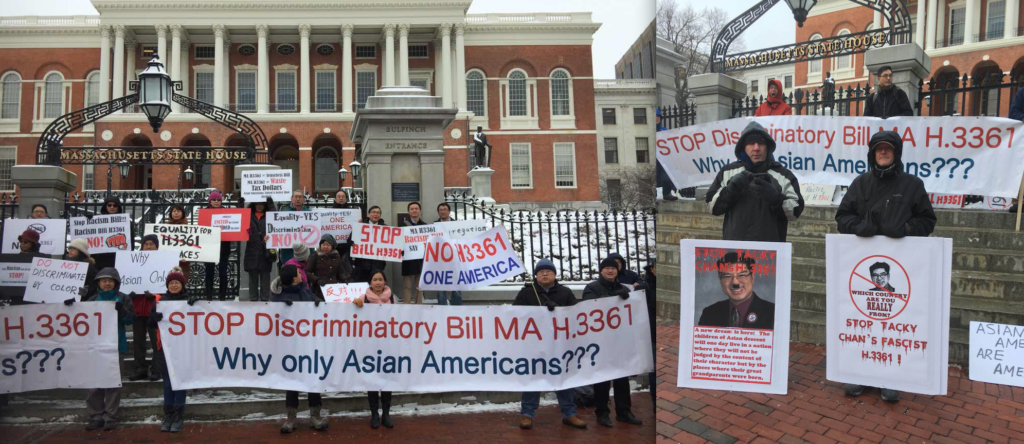 Many were standing in front of the state house protesting the bill since early morning, at a time joined by two Jewish friends who can relate personally with an atrocity (the Holocaust) happened to ethnic minorities subject to pinpointing and systematic identification, a cause H.3361 champions.

The protesters continued to pour into the statehouse, waiting orderly and quietly for the start of the hearing. Leaving a clear passage, they stand for hours in the hallway with the sole purpose of getting into the Gardner Auditorium (GA), the largest hearing room in the building. Without a doubt, they filled GA to absolute capacity with a team from Andover the first in line for registration and two Sharon panels only couple of spots after to get in line.

Confident that they will be among the first to testify, the opponents' disappointment grows to every corner of the room as team after team of supporters were summoned by the co-chair Timilty and Benson to testify, with only few being noted as "taken out of order". It was not until 2 hours into the hearing was the first opposing team called up, a team led by house of representative James J. Lyons which was deemed "taken out of order". The first "grass root" opponent being called up was Voices of Minutemen from Lexington led by Marbel Amar, at 3:50pm, almost three hours after the start of the hearing. According to the protesters, This panel was first in line registering to testify. Pictured below are the list of panelists and their time of testifying, recorded in real-time on WeChat, a popular social media platform used by the protesters for organization.

Numerous opponents of the bill thus contested that they were owed a fair order to testify in front of the committee.
We finish by noting that this lack of trust has its historical roots thanks to multiple mishavings of the Mass legislature as recent as the procedure leading to this hearing. The reason all the testifiers insisting to stay in the hallway to make sure they can get in was largely due to an event on 9/21/2017 when Representative Chan handpicked audience for his public briefing of the bill H.3361. Yuan Li, president of AAER (Asian American for Equal Rights), led a group to the briefing but was refused to let in by the guard who had a list of those allowed at the discretion of Chan. Leading up to the hearing, Mr. Chan allegedly went as far as pressuring a car rental business into turning away the protesters who wanted to rent a van. Shockingly enough to the editor, this is not the first such maneuver by the MA legislature, see this post from 2013.
Is this another gimmick to pass a controversial bill or just another episode of lack of communication and trust between legislature and the citizens? Wait no further than February 7, 2018 when the committee will vote on the next step for Bill H.3361. As you wait for its status, you can watch the outpouring of objections during the public hearing.
Here appended below are what you can do leading up to the key vote and summaries of why you should oppose H.3361 composed by Yanlai Chen, and Liming Liang respectively.
What can you do now?
You can email or call the Joint Committee on State Administration and Regulatory Oversight expressing your concern of Bill H.3361.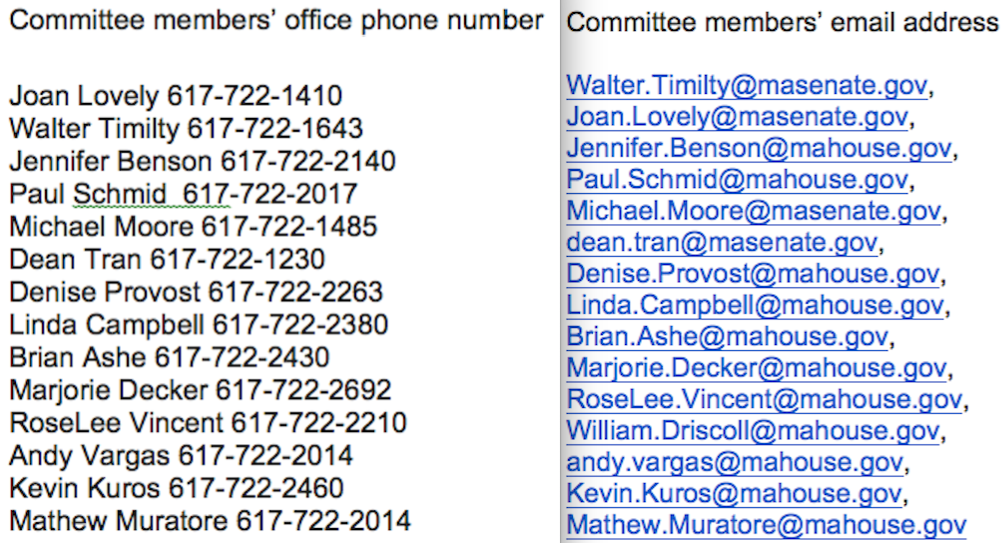 An email sent to Senator Timilty summarizing why we should oppose H.3361 after a meeting on 10/25/2017 between Timilty and SCA representatives Yanlai Chen, Jason Huang, Yuan Li, and Li Zhou.
We feel utmost strong that the unintended consequences of this bill are detrimental to the Asian American communities, and in many respects malicious to the commonwealth in terms of its budget and world renowned welcoming image.
H3361 is a redundant bill, unintentionally targeting Asian American ethnic groups. Aggregated data at block level, not targeting individuals, from Census bureau has been made readily accessible for both business and academic research as well as for state or local government. Census data is mandatory and well representing all racial/ethnic groups instead of singling out one of them.
Lack of privacy protection and data security. H3361 does not provide privacy protection in a way the census data does. To apply the same protection procedures, H3361 will necessitate significant amount of resources from the state, further draining our limited tax revenue.
Without privacy protection, this bill, easily connected with other government databases, for example, income, employment, criminal records, health status and education, will form an exhaustive Asian American Registry in MA. As a result, this bill is in full contradiction with Bill H.873, which ironically is also co-sponsored by Rep. Chan.
Many Southeast Asian counties have significant portion of muslin population. For example, over 90% of Pakistanis are muslin. Once enforced, again without privacy protection, H.3361 is a de facto Asian Muslin Registry.
The status of being a welcoming state is in jeopardy. H3361 will unintentionally pressure Asian American communities in MA to identify undocumented immigrants including many first generation immigrants from various Asian countries who came to Lowell to start a new life. Other unintended anti-immigrant consequences include making many American citizens feel being perpetual foreigners, and the trauma of being asked "where are you really from", a question seemingly to be legalized by H.3361.
Excessive data collection. While census bureau collects data at the frequency of no more than once every 10 years, H3361 will require every single state agency to ask for the same ethnic information from Asian American communities on every form filled out every single day in the commonwealth.
Optional or required, the collected data will not be reliable. If it is optional, the data collected and the resulting analysis would not be reliable as there is no guarantee of the representativity of the data. Due to institutional pressure, most people will be unwillingly pressured to provide the data. Many will then likely provide fake data, as is shown by multiple studies of the Census data that tens of millions of Americans changed their ethnicities between the 2000 and 2010 census.
Using ethnicity data to guide policy making is shortsighted and ill defined. For example, household income or other social-economic indicators are better predictors for how much a family is in need. Undoubtedly, there are people at both extremes for each and every ethnicity group, and using ethnicity as a guiding principle will put the disadvantaged in the non-chosen groups at even more disadvantage. Another example is the language barrier faced by many senior Asian Americans reported in Census studies. It is a fact that, partially thanks to these studies, language helps currently exist e.g. in most MA hospitals and a lot of assisted-living apartments. A more detailed or specific study using Census data would greatly benefit the under-served population at a much lower economic and social cost.
Below are three links on the census bureau websites as examples of accessible data indicating an alternative way at much lower cost to solve the problems H.3361 is alleged to attack.
2010 Census data report on U.S. Asian Americans
https://www.census.gov/prod/cen2010/briefs/c2010br-11.pdf
MA Asian American profile based on 2010 census data
http://scholarworks.umb.edu/cgi/viewcontent.cgi?article=1030&context=iaas_pubs
2020 Census Local Update of Census Addresses Operation (LUCA)
https://www.census.gov/geo/partnerships/luca.html
In summary, we believe that H.3361 is taking on a task that is not well defined, disproportionally draining the commonwealth's resources, claiming to achieve the perceived purposes that are readily accomplishable through existing datasets, all while producing unintended consequences detrimental to the Asian American communities.
An email drafted and sent by Liming Liang to the committee after the 1/30 hearing, edited by Yanlai Chen:
1. I have heard that one major reason to support this bill is to provide data for health research. As a statistician and public health researcher, I love to have more data. However I believe, for the sake of health research, H.3361 is unethical, HIPAA-violating, and unavoidably leading to biased research conclusion.
First, all human subject research are required to strictly comply with Health Insurance Portability and Accountability Act (HIPAA, see links below for more information). A study must obtain written informed consent from all participants so that their information can be used for research. All individual participants have the right to opt out of the research at any time. Forcefully collecting their ethnicity information by the government for health research without privacy protection is not ethical and more importantly a clear violation of HIPAA.
Reference for HIPAA:
https://www.hhs.gov/hipaa/index.html
https://www.hhs.gov/hipaa/for-individuals/faq/187/what-does-the-hipaa-privacy-rule-do/index.html
Second, I have heard that such ethnicity information collection could be optional. But after reading the bill, it appears to be clearly mandatory. Even if this bill were modified to be truly optional and no resident feel institutional pressure, the data collected would become useless for research. The reason is that whether the ethnicity question is answered is clearly not random, and therefore studies based on the data will unavoidably create statistical bias to the research conclusion.
Third, regarding the argument that some supporters want to do genetic study using data collected from H.3361. As a geneticist, I note that self-report ethnicity is a very noisy variable for genetic ancestry, especially given the high migration frequency among the Asian populations in recent decades. I don't think it a good idea to use data collected by H.3361 for genetics study, not to mention it violates HIPAA.
2. I also try to understand the spirit of bill H.3361. To my understanding, the proposal was to study the relationship between ethnicity and socioeconomic status (SES)/education level/healthcare availability, etc, then to identify the ethnicity group with poor SES/education/healthcare availability, etc, and finally to design follow-up policy to help those identified ethnicity group. Using ethnicity to design follow-up policy is a big loss of information, because when SES/education/healthcare/etc. information is available, we can directly identify who need the help, so ethnicity is useless. If we don't have such information, we could not know which ethnicity group need the help too, so collecting ethnicity information is useless too.
Even worse, such an idea to use group average to represent each individual in the group will create discrimination, called statistical discrimination. Here is an easy to understand example demonstrated by my colleagues at Harvard Business School regarding discrimination against women in job market (https://hbswk.hbs.edu/item/why-employers-favor-men). The same things are bound to happen as a result of H.3361 where a poor and disadvantaged individual/family will be discriminated because his/her ethnicity group has on average better SES/education/healthcare availability.
H.3361 using group average to represent individual condition will lose information and create statistical discrimination.
3. While most of the young generations of Asian descendants were born in the US, they often identified themselves as American. But H.3361 forcefully requires them to identify themselves according to their parents' culture/ethnicity identification. This is not fair to the young generations when they have no right to vote.
Note: this article is translated into Chinese and attached here (中文版本点击这里).